Guido Gobino
Chocolate Tradition from Turin
Guido Gobino uses some of the world's finest cocoa beans from Venezuela, Ecuador, Sao Tome and Mexico. They also put forth a strong effort in the procurement of their other ingredients: PGI Hazelnuts from the Langhe, milk from the Piedmontese chain, only beetroot sugar from ItaliaZuccheri. The quality ingredients combined with cutting-edge processes have allowed Gobino to earn numerous international awards to become the well-established "Made in Italy" Chocolate brand recognized world wide.
Giandujotto
The Original Recipe from 1865
Giandujotto is the most famous creation of Turin's chocolate tradition. Guido stays true to such, and produces 10 grams Giandujotto with select ingredients as aromatic cocoas from South America, Piedmont Hazelnuts and Italian Sugar. Available in 2 different recipes: Classic with the fresh notes of Piedmont milk, as well as Maximo without milk, which is the original recipe from 1865.
Cremini
Gianduja with Specially Crafted Fillings
Cremini chocolates are another traditional Turin classic. These sweets are structured with two layers of soft Gianduja and a unique special filling. Available in 4 flavors:
Classic Cremino: White Hazelnuts cream filling.
Dark Cremino: Intense cocoa filling
Caramel Cremino: salted caramel filling
Salted Cremino: A single layer of soft Gianduja enriched with Extra Vergin Olive Oli and Sea Salt from Cervia, with crunchy Hazelnut grains.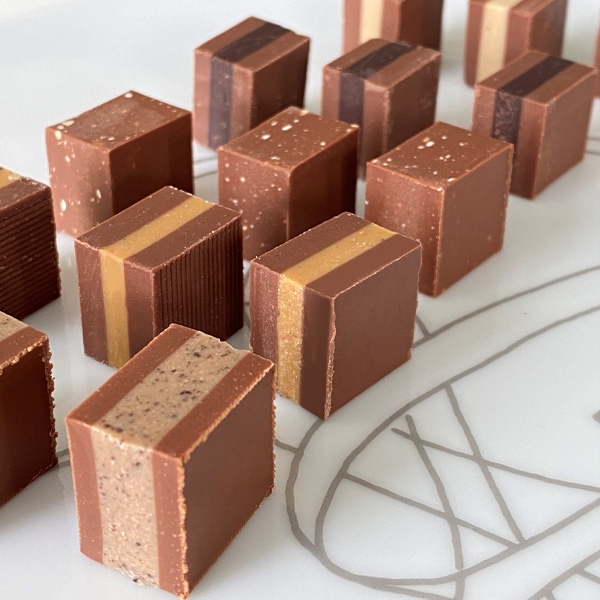 Cialdine
5-Gram Chocolate Pieces
A selection of Guido Gobino's chocolates, with different percentages of aromatic cocoas from different origins, in the small size of a 5 grams cialdina. These discs are perfect for pairings, tastings, as well as general indulgence. 
Tourinot
Fine Indulgence Chocolate
Guido Gobino's Tourinots are produced with the artisanal method of extrusion, which gives each chocolate its unique shape. Available in 4 different recipes:
Classic: With Piedmont Hazelnuts, milk, and aromatic Cocoa.
Maximo: The Original Recipe, with aromatic Cocoas from South America, without milk.
Maximo +39: With over 39% of Hazelnuts from Piedmont for a creamy texture. Tempered by hand.
N.10: Combines the soft texture of Hazelnuts from Piedmont with the intense flavor of Dark Chocolate. Tempered by hand
Bianco: White with almonds from Avola, oranges from Noto, sea salt from Paceco
Chocolate Bars
A Dedication to the Brand
With carefully-selected cocoa beans, Guido Gobino encapsulates the rich notes of each cocoa origin from Central and South America. Their bars are the aromatic declination of the Brand.
Assortments
The Whole Spectrum of Guido Gobino
A dedicated selection of our specialities, packed in our precious boxes. The assortments are presented in a beautiful Guido Gobino gift box, and include Tourinot, Cremini, Giandujotto, Cialdine and more. 
Chocolate & Gianduja Spreads
With Quality Cocoa & IGP Hazelnuts
Spreadable creams, produced with Guido's selected ingredients, such as Piedmont IGP Hazelnuts, aromatic Cocoas and hazelnut oil.
Dragées
Chocolate Covered Nuts & Fruits
IGP Piedmont Hazelnuts, Almonds, Pistachio, Raisins and other selected ingredients, covered with Guido Gobino's dark and milk chocolate.