Can cocoa grow anywhere in the world? Or are there certain climates and regions which are better for cocoa growth than others? And does cocoa grow anywhere in the United States? Read on below to discover where cocoa grows and how complex of a crop this is!
Where Cocoa Beans Come From:
In 2023, it's estimated the world wide consumption of chocolate will be up to 16 billion pounds, but we cannot have chocolate without cocoa! Cocoa of course is the primary ingredient in chocolate making – no cocoa, no chocolate. Chocolate is such a staple food, but many people do not know where exactly it comes from beyond "cocoa."
Cocoa grows on Theobroma trees, where you will find cocoa "pods" growing on the tree trunks themselves, unlike other fruits which grow on tree branches. Within these cocoa pods, they are full of cocoa beans and a a fleshy pulp, referred to as Baba. The beans are extracted from these pods for chocolate making, and in most cases the husks and interior pulp are disposed of. It's seen on average for each ton of cocoa beans harvested, 10 tonnes of the cocoa husk are disposed of.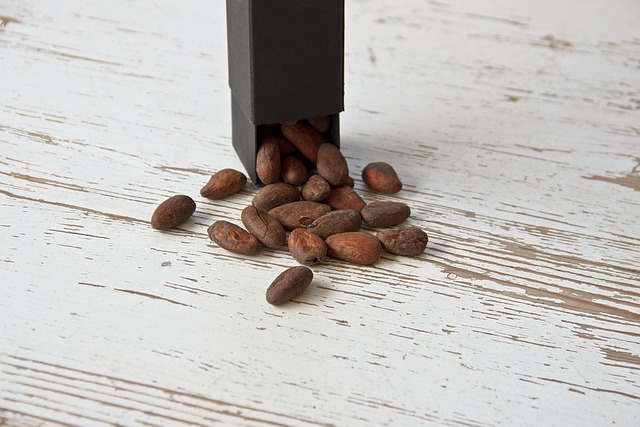 Climates for Cocoa Growth:
Theobroma trees grow in an area approximately 20 degrees north and south in latitude from the Equator, in an area known as "the cocoa belt" as seen depicted. The trees flourish in hot tropical climates ranging between 65-90°F found in and around the Equator. Theobroma trees also require sufficient shade, and ample rainfall but adequate soil drainage to avoid waterlogging. When planted, it can take about five years until these trees begin producing actual cocoa, so the climate conditions are absolutely vital for cocoa's growth and prosperity. An average production for Theobroma trees range from 30-40 cocoa pods per year, and each pod contains approximately 20-50 cocoa beans. And believe it or not, it takes about 400 cocoa beans to product just one pound of chocolate!
You can see in this image the countries which are actively growing cocoa, and despite looking uniform in levels of growth, over 70% of the World's cocoa production comes from West Africa. Continue reading below to view a list of all countries growing cocoa as of 2023.
Now, there are also different genotypes of cocoa which grow in different regions around the world, but this will be broken down in a separate post so stay subscribed and keep an eye out for additional content!
And it's always asked, "Can cocoa grow in the US?" The answer is yes! However, the only climate sufficient for cocoa growth in the United States is found in the Ocean state of Hawaii, where lesser quantities but high quality cocoa is grown and harvested.
A List of Countries Growing Cocoa
In order of production levels (as of 2023):
Ivory Coast, Ghana, Indonesia, Nigeria, Cameroon, Brazil, Ecuador, Peru, Dominican Republic, Colombia, Papua New Guinea, Uganda, Mexico, Venezuela, Togo, India, Sierra Leone, Haiti, Guatemala, Madagascar, Guinea, Liberia, Tanzania, Philippines, Nicaragua, Bolivia, Soloman Islands, Republic of the Congo, DR Congo, São Tomé and Príncipe, Vanuatu, Sri Lanka, Malaysia, Grenada, Honduras, Panama, Costa Rica, Samoa, Angola, Guyana, Equatorial Guinea, El Salvador, Trinidad & Tobago, Dominica, Jamaica, Belize, Cuba, Saint Vincent and the Grenadines, Gabon, Timor-Leste, Africa Republic, Thailand, Saint Lucia, Comoros, Micronesia, Fiji, Suriname, US (Hawaii), American Samoa
Sources:
ICCO.org
worldpopulationreview.com
Shop Chocolates from Different Origins
Discover Single Origin Chocolate: