Domori Chocolate
Fine Chocolate from the Highest Quality Cocoa
Let your life feel a little more luxurious with every bite when you try Domori chocolates from World Wide Chocolate. Established in 1997, this company is based in Turin, Italy, a province known for its exquisite chocolates. Domori is certainly no exception thanks to founder Gianluca Franzoni's dedication to sourcing only the highest quality cocoa. Also known as aromatic cocoa, this ingredient brings a pure and intense flavor that's absolutely incredible, even for those who have tried many varieties of gourmet chocolate. To create Domori chocolate and its unique aromatic complexity, Criollo cocoa is directly sourced from their plantations in Venezuela and processed every day in our facilities in None, Turin, with the a short and pure recipe. This choice is combined with their innovative productive process, where each phase is designed to preserve the aromatic notes naturally found in the Criollo beans.
Shop All Domori Chocolate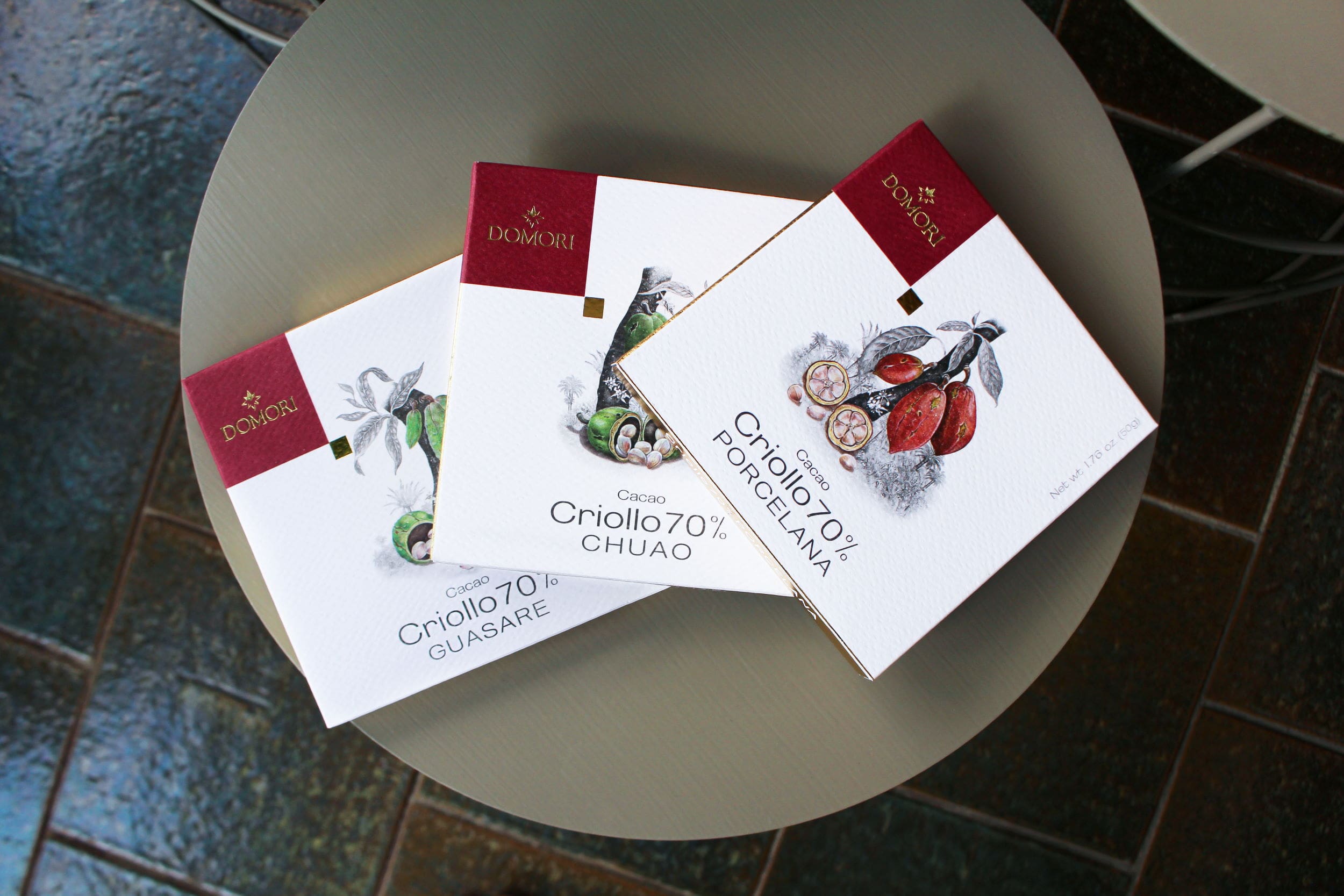 Chocolate Bars
From the Finest Quality Cacao
Domori produces a wide range of aromatic profiles through their chocolate blends, while simultaneously respecting and preserving the biodiversity of fine cocoa. Domori continues to focus to protect these valuable varieties of cocoa, their natural habitats, as well as the farmers who work on the plantations cultivating the delicate crops. In 2002, Domori invested in Hacienda San Josè, preserving seven different varieties of Criollo cocoa, creating a universal world heritage for its biodiversity.
Napolitains Chocolate Squares
Single Origin Chocolate Squares, Mixed Blends & Luxury Gift Boxes
Domori offers small chocolates to enjoy your fine cacao experience, also perfect for chocolate tastings and pairings. These chocolate squares are made from fine cacao beans including Trinitario, Nacional & Criollo; they also make excellent chocolate gifts.
Chocolate & Gianduja Spreads
With IGP Hazelnuts from Piedmont
Domori puts the spotlight on chocolate with their gourmet line. Dark, milk and white chocolate creatively combined with other flavors and inclusions to search for the perfect balance between chocolate and premium ingredients.
Single Origin Couverture Chocolate Drops
Fine Couverture Chocolate
Domori produces single origin chocolate blends sourcing cocoa beans from their plantations in both South America and Africa. Each cacao blend has its own unique aromatic nuances to ravish your senses, evoking the exotic scents of the lands they come from.
Chocolates of Piedmont
Cremini, Giandujotti & Luxurious Gift Boxes
Strongly based within the Piemonte region, Domori offers a selection of the best traditional chocolate this territory can offer, made with fine cocoa.
Fave di Cacao Cocoa Beans
Fine Roasted Cacao
Cocoa beans are an excellent antioxidant and have many benefits. Thanks to Domori's fine cocoa, the tasting experience will be one of the most unique in the world.
Quantum Chocolate Gifting Blocks
500g Chocolate Blocks
A generous portion to satisfy even the most demanding palates with the quality of Domori chocolate. The Quantum Domori line is design for gifting and sharing: is there a better dessert than good chocolate to enjoy with friends?
Cocoa Powder
High Fat Dutched Cocoa Powder with Intense Flavor
Domori cocoa powder is perfect for giving your desserts an enveloping and unique flavor! Perfect for preparing desserts and delicious recipes at home, which will amaze those you love. 22/24% fat content
Gruè di Cacao Cocoa Nibs
Pure Cocoa Nibs
Domori cocoa nibs are from roasted finest quality cacao beans and available in 1kilo bag options.