Chocolate Baking Sticks
Bake-Stable Chocolate Batons
Make a perfectly shaped, warm and melted chocolate pastry easily with a package of chocolate batons from World Wide Chocolate. These small chocolate sticks are made with the finest chocolate and are the perfect shape for baking pastries, especially pain au chocolat. Chocolate sticks are specially made with less cocoa butter than other chocolate chunks. Because of this, they can be baked directly in the oven without burning or needing any prep work. Simply wrap your pastry dough around these chocolate batons, bake your pastries until lightly browned and enjoy your perfectly melted and cooked chocolate bread. You can use our chocolate batons to create chocolate rolls, Danish pastries and chocolate buns. Wrap them in croissant dough for a lovely French breakfast treat.
Crow & Moss Dominican Republic Zorzal Dark Chocolate Baking Batons
Craft Chocolate Baking Sticks
The organic, direct-trade beans for these batons come from Dr. Charles Kerchner's 1,019 acre bird sanctuary in the mountainous Reserva Zorzal, Dominican Republic where the beans are grown, dried and fermented with meticulous attention to detail. The chocolate is a bold explosion of fruity sweetness with a well rounded finish. The batons are at a 70% cocoa content and perfect for pain au chocolat.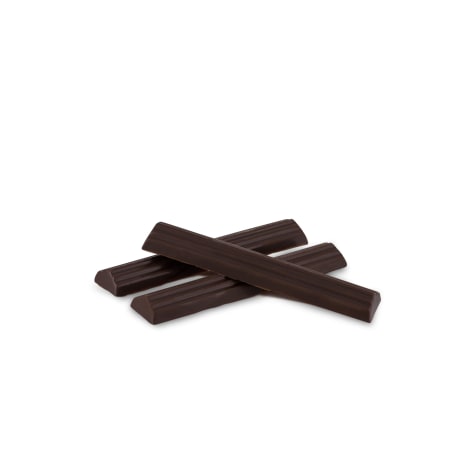 Valrhona Dark Chocolate Baking Bâtons
48% Cacao
Chocolate Sticks are made with premium chocolate specifically designed to deliver powerful cocoa taste in pastries. Completely stable for baking.
Guittard Semisweet Dark Chocolate Baking Batons
Available in 1-Pound Bags to 10-Pound Cases
A perfect chocolate insert for croissants and other delicacies. Guittard Semisweet for that wonderful flavor that everyone savors.
Callebaut 45.3% Dark Chocolate Baking Sticks
Semisweet Belgian Baking Sticks
Looking for a perfect match for your all-organic bakes and rolls? With Callebaut dark chocolate baking sticks you're on a roll. Simply roll or wrap them in the dough and bake. They'll melt without burning and after cooling they'll slightly harden again and add a lovely snap and intense, bittersweet chocolate taste to your pains au chocolat, Danish pastries and artisan bakes.
Cacao Barry Semisweet Dark Chocolate Baking Sticks
French Bake-Stable Chocolate Sticks
Cacao Barry 44% dark chocolate baking sticks are the right color and consistency for making delicious batches of chocolate croissants. Each bittersweet chocolate stick is about 3/4-inch in length, a perfect size for numerous chocolate pastries, molten chocolate treats and more. Made with sugar, unsweetened chocolate and vanilla, soy lecithin is included as an emulsifier. They also make a great anytime snack for satisfying chocolate cravings.
Our gourmet chocolate batons are crafted by some of the world's best chocolate manufacturers. Some of these include Callebaut, Guittard and Valrhona. They're made in several different flavors and are made from the finest cocoa beans and cocoa butter to give them an intense, rich in cocoa flavor. Some of them are made from exquisite Belgian chocolate while others are made from French chocolate. You'll also have the choice between dark chocolate for a richer flavor or semisweet chocolate if you'd like something slightly sweeter. Either way, these baking chocolate sticks are the perfect pairing with some light and airy dough, and a hot cup of coffee in the morning. So, bring out your inner French pastry chef and start baking delicious chocolate pastries today.
The chocolate batons from World Wide Chocolate come in both individual use and larger bulk packages. Buy a smaller 1-pound or 2-pound case for use at home or stock up on all the baking chocolate sticks you need with a 10-pound case. All of our baking chocolate and gourmet chocolate treats are offered at competitive prices for our customers. We also offer discounts to those who'd like to purchase wholesale chocolate batons.