Amano Chocolate
Small-Batch, Artisan Chocolate
If you love foods that are made with a great level of care and dedication, you'll love Amano chocolates. These artisan chocolates are made by hand to deliver an incredibly rich, flavorful and fresh taste with every single bite. Based in Orem, Utah, this company was founded by Art Pollard and Clark Goble, two chocolatiers who have traveled around the world in search of the very best ingredients. Pollard and Goble only buy their cocoa directly from growers, and they visit the cocoa bean plantations in person to ensure they get the highest-quality products. Amano chocolates are made with cocoa beans from areas as diverse as the Dominican Republic, Ecuador, Venezuela, Madagascar and Papua New Guinea. 
Shop All Amano Craft Chocolate
Cuyagua Village Venezuela 70% Dark Chocolate Bar
Amano's Signature Edition Blend
Nestled on the Caribbean coast of Venezuela is the little village of Cuyagua. The cocoa from Cuyagua has been famous since the time age of the Portuguese pirates who traded these same beans. Art has the immense honor to make chocolate with Cuyagua's rarified beans. What he treasures most, however, is the heart of one of Cuyagua's cocoa farmers who has the heart of a poet.
After Art handed this farmer a chocolate bar made with cocoa he helped grow and harvest, he said: "This chocolate is like a river." When I asked him why, he said, "This Chocolate takes you on a journey of flavor and it goes to all these wild and wondrous places. It goes on and on like a river." It is our hope that you enjoy Cuyagua's river of flavor like Cuyagua's humble cocoa farmer did.
Tasting Notes: Beautiful, complex chocolate flavor with notes of spice, melon, and cream.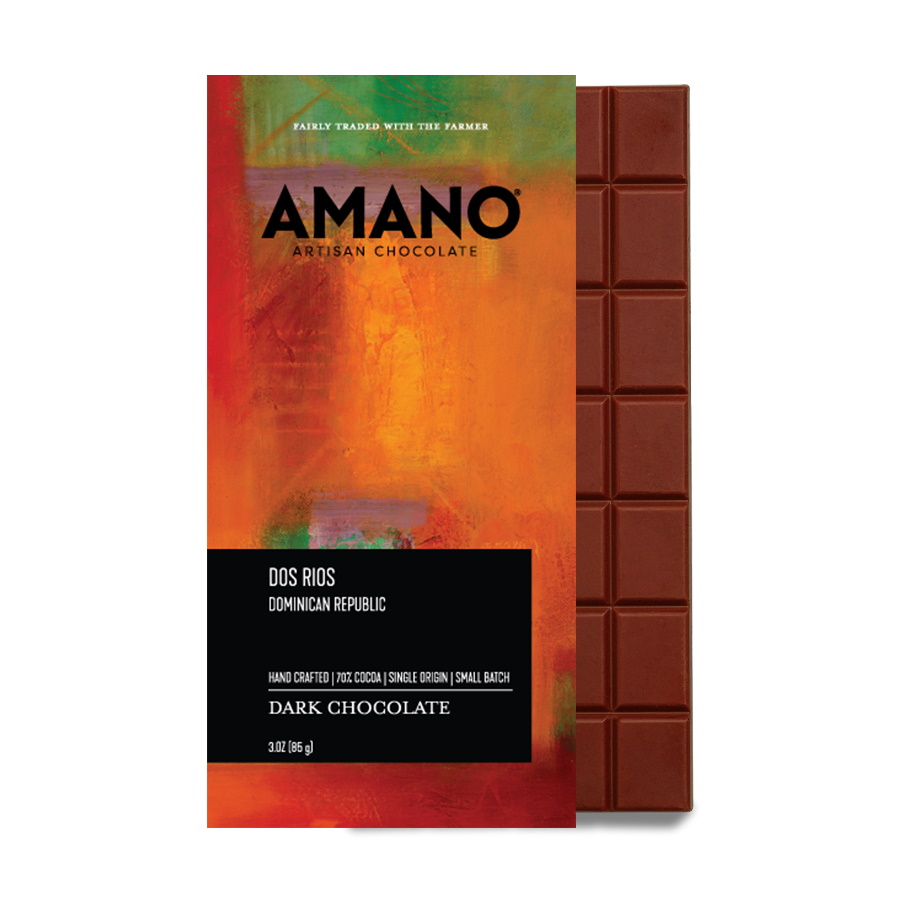 Dos Rios Dominican Republic 70% Dark Chocolate Bar
Thrilling & Magical
One day a friend called Art excitedly about some very special cocoa beans he found in the Dominican Republic. He said they were truly unique, and I was the perfect person to make them into chocolate. Industrial chocolate companies like their chocolate to taste simply like "traditional chocolate." This does not. This chocolate has a haunting flavor like bergamot, orange and lavender. These natural flavors are due to the unique way the coca beans are fermented. It took all of Art's skills to do these beans justice. He believe you will be thrilled by the results. If you want to try a chocolate with that extra bit of "magic," this is it.
Tasting Notes: This chocolate has very gentle but rich flavors with beautiful notes of bergamot orange, blueberry, spices, and lavender. These are natural flavors found in the special cocoa beans used to make this chocolate.
Ocumare Village Venezuela 70% Dark Chocolate Bar
Gentle & Flavorful
The cocoa from the remote Venezuelan village of Ocumare De La Costa has been famous for its cocoa since the 1600's. Since Amano was founded, it has been an honor to be able to make chocolate from the rarified cocoa. The flavor has always been on of the world's finest, and we have watched many people swoon as the waves of Ocumare's incredible chocolatey flavor gently overwhelm their senses.
Art has found the farmers of Ocumare and its neighboring valleys to be very kind and hospitable. For this reason, it is one of his favorite places to visit. He truly believes that this chocolate accurately reflects the pride, sensitivity, and personality of the humble famers who grow the cocoa that we use to make this chocolate. As you taste it, Art is sure you will come to love as much as he does, not only the chocolate but the farmers and land from which it comes.
Tasting Notes: This chocolate has a rich and complex chocolate flavor with notes of red fruit and spice.
Sambirano Valley Madagascar 70% Dark Chocolate Bar
Rounded & Incredible
It is for very good reason this is the very first chocolate that Amano released. It tastes incredible and has won numerous awards in the United States, Europe, and Asia. The cocoa Amano uses to make this chocolate comes from a cocoa plantation in the Sambirano Valley on the northwest coast of Madagascar. The owner of the plantation is a valued friend and colleague, so Amano are always sure to get his very best.
Each batch of our Madagascar chocolate is carefully roasted, stone ground, refined, and conched to bring out the very best flavors of the exotic cocoa beans we use. It is a laborious process, but each bit of extra effort pays off when using truly special cocoa to create a chocolate such as this. The final result explodes with a symphony of flavors. Try this chocolate and you'll be sure you have found a favorite.
Tasting Notes: This chocolate has a rich gentle chocolate flavor with notes of balsamic vinegar, cherry, raisin & citrus.
Guayas River Basin Ecuador 70% Dark Chocolate Bar
Full & Wonderous
From the very first time Amano tasted the cocoa beans they used to make this chocolate, he fell in love with them. Their rich flavor was intoxicating, and yet beautiful. The cocoa comes from a small, remote community in the Guayas River Basin just up the river from Guayaquil, Ecuador. It was an easy decision to make chocolate from these wonderful beans.
After the chocolate was finished, Amano held a launch party with the farmers in Ecuador. They had free food for all and most importantly, and the farmers were all excited to taste chocolate they helped to create. He will never forget the aged matriarch of the community thrusting out her gnarled hand and demanding "more" time and time again. Every time he tasted this chocolate, he is sure that she was right. This is one chocolate who incredible flavor will case you to always ask for "more."
Tasting Notes: This chocolate has a rich chocolate flavor with notes of green bananas, smoke, and blackberries.
Macoris Dominican Republic 70% Dark Chocolate Bar
Tantalizing & Beautiful
Years ago Art found a beautiful cocoa plantation that forever caught his imagination. On this particular day it was overcast and the cocoa trees were new and laden with a rainbow of cocoa pods. It was very peaceful with the exception of the tropical birds chirping and squawking. As the light came through the leaves, he could not help but feel that if there really was a Garden of Eden it would be just like this. Ever since he has wanted to make chocolate with beans from this magical place.
It took seven years. But as they say, good things come to those who wait. Art hopes that this chocolate is as special for you as it was for him.
Tasting Notes: Molasses, brown sugar, cream, caramel, nuts and dried apricots.
Dos Rios Dominican Republic 55% Dark Chocolate Bar with Cardamom Black Pepper
Back to the Roots
Before starting Amano, Art experimented with an incredible number of flavor combinations. Chocolate with cardamom and black pepper was one of his favorite discoveries. This bar uses the award winning Dos Rios chocolate made from unusually flavorful cacao beans out of the Dominican Republic. Those beans have natural bergamot orange and lavender flavors to them. Blend and grind those beans with the finest cardamom and black pepper and the resulting flavor combination is electrifying. Art has added crunchy bits to make it even more addictive.
His first successful chocolate bars that he gave away as Christmas presents including a cardamom and black pepper bar. It was because of those bars that made the recipients of those gifts convince him to start Amano Chocolate. You might say that with their Cardamom Black Pepper bar they have come full circle back to the origins of Amano Chocolate.
Tasting Notes: Rich dark Dos Rios chocolate with bergamot orange, blueberry and lavender notes made out of Dominican Republic cacao beans. The magical flavor of cardamom with the slight warmth of black pepper. Crunch bits make it extra electrifying.
Guayas River Basin Ecuador 55% Dark Chocolate Bar with Mango Chili
The Perfect Combination
Chili and chocolate are almost the perfect combination. The two have been paired together since the time of the Aztecs when they were used to create a wonderful drink. Mango's fruity creaminess provides the perfect counterpoint to the chili's warmth, and the two have become a favorite snack world wide.
Art has taken the mango-chili combination and crafted them together in this bar, which Amano makes with cocoa they source directly from farmers in the Guayas River Basin in Ecuador. The result? A Chocolate that is truly remarkable and one which you will treasure.
Tasting Notes: Rich chocolate flavor from the Ecuadorian cocoa presents itself with the creamy fruitiness of mango. It is then followed by melds with the arbol chili's smokey and lingering warmth.
Guayas River Basin Ecuador 55% Dark Chocolate Bar with Raspberry Rose
A Homage to the Past
While visiting Paris, Art visited Pierre Herme's amazing pastry shop on rue bonaparte. He purchased over $70 of pastries to take back to his hotel. Upon returning to his tiny room, he tasted his raspberry rose cheesecake. He wore. A simple "oh my, that's good" was simply insufficient. Since then, Art has striven to create that same experience for each and every person who tastes Amano's handcrafted chocolates. This raspberry rose bar is Art's homage to this experience.
Tasting Notes: Rich dark chocolate made with Ecuadorian cocoa with bright raspberry notes, followed by the beautiful fruity and floral hint of rose. Crunchy bits make it extra electrifying.
Guayas River Basin Ecuador 55% Dark Chocolate Bar with Citrus Mélange à Trois
Your Next Favorite Chocolate Bar
Nothing goes better with chocolate than citrus. Every time Art tastes the two together, it brings back childhood memories of the orange chocolate found during the holidays. This is a grown up version of the chocolate from his childhood. Amano makes the chocolate with cocoa that they obtain directly from farmers in Ecuador. We then combine it with the oils from yuzu – an incredible citrus from Japan, tangerine, and grapefruit. (Hence the name "Citrus Melange A Trios"). They have added tiny little pieces orange fruit leather which gives the chocolate an incredible juicy sensation.
Tasting Notes: Haunting flavor notes of yuzu, tangerine, and grapefruit enrich the deep chocolate flavor. Orange pieces provide a layer of juiciness.
Ocumare Venezuela 55% Dark Chocolate Bar with Japanese Sea Salt & Cocoa Nibs
A Homage to the Past
When planning this bar, Art reached out to his good friend Mark Bitterman (of Bitterman Salts). He is a great guy and perhaps the country's leading expert on exotic salts. They chose this beautiful Japanese sea salt that is hand made from ocean water pumped from the ocean's depths where the sea water is ultra pure. The cocoa we use to make the milk chocolate comes from Ocumare, Venezuela (one of their favorites) and the nibs are made with cocoa from Ecuador. You will love this very special milk chocolate.
Tasting Notes: Rich milk chocolate, sea salt, accents the flavor of the milk and tempers its cream. Deeply roasted cocoa nibs add texture and accent to the base chocolate flavor.